With spring in full swing, it's time to get out and fly! As we continue to expand www.archerbravo.com, we're adding new features all the time to help make your next flight better. Here's an update!
---
Free Hour of Flight!
We're just days away from giving away one free hour of flight time! The drawing is June 1st, 2006. If you're an Archer Bravo member, you're in the running - and if you win, you will be notified by email.
---
Instant News...
Have you noticed? You can now get up-to-the-minute aviation headlines on our homepage, under "The Radar Sweep." We've recently partnered with Aero-News Network to bring you the latest news, 24 hours a day. Just click on the headline link for the full story.
---
"Where Am I?" - We Have A Winner!

In last month's newsletter, we introduced a new contest called "Where Am I?" The first person to correctly identify this airport wins an Archer Bravo t-shirt, and bragging rights.

The response was huge, with lots of guesses. LAX. Dulles. Newark. John Wayne. All good guesses, but...

Member Thom Pinkston was the first to guess correctly. We took this photo 1500 feet above Runway 1R at SFO. Congratulations Thom!

This photo was shot during a Class Bravo transition, just to the west of SFO along Highway 101. Runway 1R is a primary departure runway at SFO. Quite a view! Sometimes, the tower controller will even clear you directly over mid-field, as the heavy jets land and take-off under you.
---
"Where Am I?" - May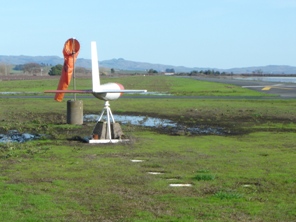 Back by popular demand, here's the next installment of our "Where Am I?" contest. This month, it's all about a small GA airport.

Here are some hints:

-On the West Coast
-The area is a popular tourist destination
-A great place to take a bi-plane ride

The first person to email a correct guess wins. The answer and winner will be in next month's Bravo Newsletter.

Good luck!
---
Blah, Blah, Blog!
We're pilots, too. And we love hanger talk. Check out our new Bravo Blog for recent real life stories about flying.
---
Latest Ink

If you haven't seen it yet, check out the write-up about Archer Bravo Aviation in the June 2006 edition of AOPA Flight Training Magazine.
---
"I Love That Place!"
We want to be the number one source for FBO reviews - and we need your help. Spend a few moments telling us about your most recent flight. Please review your favorite, or least favorite destinations, FBOs, fuel stops, or $100 hamburgers.
---
I Have A Question...
Are you a CFI and want to spread your wisdom? Or are you a student pilot who needs an answer? Submit your questions, answers, and good advice for pilots everywhere.
---
Be a Bravo Spotter
See a change on your flight line? New prices? Let us know by becoming a Bravo Spotter. It helps us. It helps your fellow pilots. Click on the link below for details.
---
Thank you for being a loyal Archer Bravo Aviation member - where you can... Find it, Fly it!

Regards,

Chris Archer
Founder, Archer Bravo Aviation, Inc.