Did you see any fireworks... from above? All of us at Archer Bravo Aviation hope you were able to celebrate America's independence with a beautiful flight. Now with summer in full swing, we want to update you on what we're working on to make your next flight better.
---
And the Free Flight Goes To...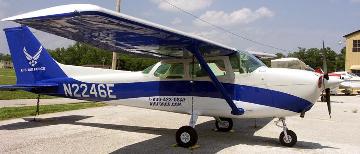 What a way to celebrate a great launch to our website - by thanking you! On June 1st, Archer Bravo Aviation randomly gave away a free hour of flight time to member Greg Horine.

Greg flies out of a US Air Force Flight Training Center, the Scott Aero Club at Scott AFB in Illinois.

Scott Aero Club manager Sandy Lang told us, "Greg is an awesome member and friend." We think so too. Congratulations Greg!
---
NEW Free Hour of Flight Contest!
We're handing out more free flights... starting now! The rules this time are very simple: just click on the link below, and follow the instructions - you'll automatically be entered to win!
---
"Where Am I" Winner - May!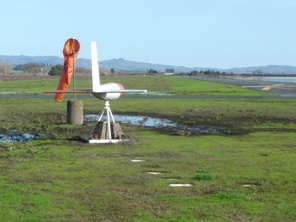 Our very popular "Where Am I" contest asks members to tell us where a certain picture is taken.

For May, member Mark Schindler was the first to correctly identify this as the Sonoma Valley Airport in Schellville, California. He even got the runway right: Runway 7.

This picture was taken in the spring as the airport was drying out after several weeks of rain. Sonoma Valley is in the heart of the Northern California Wine Country, a short drive or flight from Napa. It's a great place to fly to during the day, and sip wine at night.

Mark, an Archer Bravo t-shirt is on the way!

---
"Where Am I?" - July

Let the contest continue. Here is the July installment of "Where Am I?"

Usually we'd offer a few more clues, but because of the runway number, and the terrain - you're on your own this month.

The first person to correctly identify this airport will get bragging rights in next month's newsletter, and a free Archer Bravo Aviation t-shirt.
---
Gusty, and Gutsy - Latest Bravo Blog
Don't miss our latest Bravo Blog, "Gusty, and Gutsy." It's a good reminder that knowing your limits is crucial to your safety, and confidence.
---
We Want Updates!
See a change on your flight line? New prices? Let us know by becoming a Bravo Spotter. It helps us. It helps your fellow pilots. Click on the link below for details.
---
"Their Fleet Is Great!"
Help make us the #1 online source for FBO reviews. Spend a few moments telling us about your most recent flight. Please review your favorite, or least favorite destinations, FBOs, fuel stops, or $100 hamburgers.
---
Tips & Tricks
We all want to learn. Pick up some tips, or leave some good advice for your fellow pilots in our Bravo Tips section.
---
Thank you for being a loyal Archer Bravo Aviation member. Find it, Fly it!

Regards,

Chris Archer
Founder, Archer Bravo Aviation, Inc.