With the heat of summer in full effect, sometimes there's nothing better than launching into some cooler air high above the simmering ground below. This edition of the Archer Bravo newsletter can help you do just that...
---
NEW Contest: Win A FREE Hour of Flight!
We're at it again. This time, all you have to do to win a FREE hour of flight is tell a friend or fellow pilot about Archer Bravo Aviation. The more fellow pilots you tell, the more entries you get. Click below for contest rules.
---
"Where Am I" Winner - July!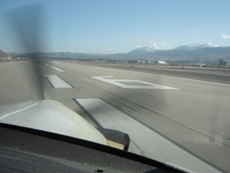 Our very popular "Where Am I" contest asks members to tell us where a certain photo was taken.

For July, many of you guessed Van Nuys - perhaps it was the 16L.

Turns out it was another 16L. Archer Bravo member Bruce Robertson was the first to correctly guess that this picture was taken at the Reno/Tahoe International Airport (RNO).

We took the photo from the right seat of a Pilatus PC-12 just before take-off on a blustery day. Those mountains: the eastern slopes of the Sierra Nevada range.

Congratulations Bruce. An Archer Bravo t-shirt is on the way!

---
"Where Am I?" - August

"Where Am I?" rolls-on in August. This month's mystery is very rural so we're going to have to drop a few hints:

-The runway parallels a major California Interstate
-It sits almost directly between Sacramento and Los Angeles
-After you land, you can treat yourself to a great steak dinner

The first person to correctly identify this airport will get bragging rights in next month's newsletter, and a free Archer Bravo Aviation t-shirt.
---
Finding New Friends - Latest Bravo Blog
Don't miss our latest Bravo Blog, "Finding New Friends." If you've ever had to pack-up and leave your home airport behind, you might be able to relate to what you're about to read.
---
"We Have A New Plane!"
See a change on your flight line? New prices? Let us know by becoming a Bravo Spotter. So many of you are doing it - and we really appreciate it. It helps us. It helps your fellow pilots. Click on the link below for details.
---
Calling All Reviews
We're on our way, and now you can help make us the #1 online source for FBO reviews. It's easy, and can be anonymous. Spend a few moments reviewing your favorite, or least favorite destinations, FBOs, fuel stops, or $100 hamburgers.
---
Share Your Knowledge
Ever want to tell someone about that great tip you learned during your last flight? Now you can. Leave some good advice, or pick up some tips, in our Bravo Tips section.
---
Thank you for being a loyal Archer Bravo Aviation member. Find it, Fly it!

Regards,

Chris Archer
Founder, Archer Bravo Aviation, Inc.